Las Vegas '96 (Day 3)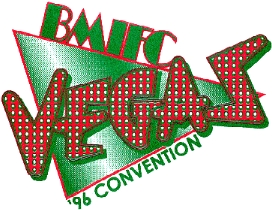 Friday, August 23, 1996

FAN CLUB DISPLAYS
1:00 p.m.
This actually continued all afternoon while the Manilow U. Seminars were taking place. If you didn't already know about the Local Fan Clubs, this was a great place to find out.
MANILOW U. SEMINAR
1:30 p.m.
Mark Rizzo (Vice President of National Adult Contemporary (AC) Promotions with Arista Records) diffused any rumors that Arista (Mark, in particular) wasn't doing anything about getting Barry's music played on the radio ("I care about [Barry]."). Convention attendees submitted a number of questions for the Q&A portion of Mr. Rizzo's seminar.
MANILOW U. SEMINAR
3:00 p.m.
Susan DuBow, Barry's publicist, gave a quick introduction, then went right into her Q&A: "48 Hours" will air in the fall. August 1996 will be Barry's last engagement at the Mirage due to a recent change in (the showroom's year-round act) Siegfried & Roy's contract. Barry will likely appear on the Rosie O'Donnell Show, "Leeza", "Leno", "Letterman", Access Hollywood, Entertainment Tonight, Regis & Kathie Lee, Good Morning America, and the Today Show to promote his forthcoming album due in November. Susan's most memorable moment of the past year: Getting a call from Barry (February 20), who needed a ride after getting in a fender-bender accident on an L.A. freeway...
BERMUDA TRIANGLE PARTY
5:00 p.m.
Time for some drinks, fruit, and hors d'oeuvres before Barry's second show at the Mirage, i.e., for those that were attending.

This Page Created September 1, 1996 (Last Updated April 26, 2001)
Barry Manilow International Fan Club and the BarryNet, ©1996-2001
Return to BMIFC Past Conventions and Parties...