Las Vegas '96 (Day 4)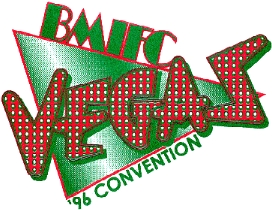 Saturday, August 24, 1996

BIG BAND BRUNCH & BARRY BINGO
Out-of-the-ordinary bingo rules are complicated enough. Factor in a breakfast buffet, a couple of hundred sleepy Barry fans, a T-Shirt contest and announcement of photo contest winners, and you've got "All Or Nothing At All" ... Oh, and of course, one Free Space (except when there are No 'N's).
AFTER CONCERT PARTY
Following Barry's third show at the Mirage, convention attendees snapped up the last of the food, last of the Manilow Boutique items, and last of the Barry "Copacabana" plates, then danced the Macarena to any Barry song that had a remotely similar beat. By the way, a check for $1622.00 was presented to BMIFC's Kate Naughton for the Starlight Foundation (from money raised during the Charity Coin Toss and a Barry sketch raffle)!!

This Page Created September 1, 1996 (Last Updated April 26, 2001)
Barry Manilow International Fan Club and the BarryNet, ©1996-2001
Return to BMIFC Past Conventions and Parties...