Memphis '97 (Day 3)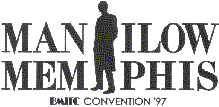 Monday, July 14, 1997

CONTINENTAL BREAKFAST
Food for those who survived the Costume Party the night before!
BMIFC CHARITY WALK
Over $7000 in donations raised for the Manilow Fund
NASHVILLE CONCERT EXCURSION
1:00 p.m.
Four buses departed on the trip to Nashville. The three-hour trip included video clips of Barry's interview in Europe, plus 'door prizes'. A picnic (potato salad, ham sandwiches, drinks, cherry pie, ... and a few places to sit) was held at the Starwood prior to Barry's Concert in Nashville, outdoors in hot, humid weather (Thank goodness for those battery-operated fans!).

This Page Created September 8, 1997 (Last Updated April 26, 2001)
Barry Manilow International Fan Club and the BarryNet, ©1997-2001
Return to BMIFC Past Conventions and Parties...