Memphis '97 (Day 2)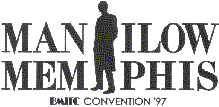 Sunday, July 13, 1997

SOUTHERN COMFORT BREAKFAST BUFFET
10:00 a.m.
Eggs, bacon, sausage, grits, the works!
CONVENTION EMPORIUM
1:00 p.m.
T-shirts, CDs, coffee mugs, and more were available for sale!
FAN CLUB DISPLAYS
1:00 p.m.
Divided among two rooms (the Beale and the Crump), including displays by A Champaign Toast To Manilow, Illinois' Hoosier Friends of Manilow, Manilow's Michigan Medley, Hot Tonight For Barry, Barry's L.A. Locals.
MANILOW U. SEMINAR
2:00 p.m.
Jeremy Werner (director of the Manilow Fund for Health & Hope VISA) talked about the new "grassroots" charity called the Manilow Fund for Health and Hope. Also shown were "Manilow" Visa cards from which monies raised will go to the Manilow Fund. NOTE: $1000.00 will be donated to the Fund each time Barry says the word "MAGIC" at a special appearance (sponsored by Magic Promoters).
<!TR> <!TD><!BR><!H4><!/H4><!/TD> <!TD><!BR><!H5><!?><!/H5><!/TD> <!/TR>
B.B. KING'S BLUES CLUB DINNER
5:00 p.m.
A private party for Manilow fans on Beale Street! A three-piece band provided live entertainment.
BMIFC COSTUME PARTY/BUFFET
A "Summer of '78" Beach Party, including lip sync contest, Barry videos, and dancing to Barry's music.

This Page Created September 8, 1997 (Last Updated April 26, 2001)
Barry Manilow International Fan Club and the BarryNet, ©1997-2001
Return to BMIFC Past Conventions and Parties...