Memphis '97 (Day 1)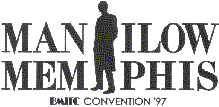 Saturday, July 12, 1997

SIGN-IN
3:00 p.m.
Approximately 250 attendees checked in at the Memphis Crowne Plaza to pick up their BMIFC Convention Delegate Kits (which included a t-shirt, coupon book, mini-sports cup, battery operated fan, official certificate, and concert tickets!) and sign-up for the Manilow U. Seminars.
DINNER CRUISE
Aboard Memphis Queen Line (optional event)
DESSERT RECEPTION
10:00 p.m.
Time to catch up with "Old Friends" and meet new fans, with door prizes and the sound of Barry's music over the speakers.

This Page Created September 8, 1997 (Last Updated April 26, 2001)
Barry Manilow International Fan Club and the BarryNet, ©1997-2001
Return to BMIFC Past Conventions and Parties...