Memphis '97 (Day 4)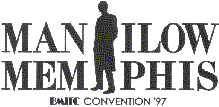 Tuesday, July 15, 1997

BIG BAND BRUNCH AND BARRY BINGO
10:00 a.m.
Breakfast was followed by B-I-N-G-O and the announcement of photo contest winners (categories included #1 - Remember When...In Concert, #2 - Buns of Steel (Butt Shots), #3 - The Great Escape (Candids), #4 - The Other 99 (featuring band, singers other than Barry), and #5 - Summer of '78). Kitty Piper also won The Medley's photo caption contest ("Oh-h, Say Can you See?")!
MANILOW U. SEMINAR
Speaker Tony Shepherd of BMG used humor to give an inspiring motivational talk.
BMIFC CONVENTION SESSION
Featured a slide show of local fan club charity activities, and presentation of a check for $7039.00 to Jeremy Werner (Manilow Fund for Health and Hope). This was followed by Garry Kief's Q&A: Topics included the 'No Camera Policy', fan club ticket distribution, tour schedule for the fall including Universal Amphitheatre at the end of the year, future video releases (expect some re-releases, plus possibly a dress rehearsal video taped prior to the start of the 1997 Tour). A survey was distributed to attendees which included questions about use of computer technology to pass along BMIFC information, using the BarryNet as primary resource, providing non-fan club members access to fan club privileges.
LOBBY LIBATION
5:00 p.m.
Snacks prior to Barry's concert at Mud Island.
AFTER-CONCERT BUFFET
Time to say farewell ... until the next convention!

This Page Created September 8, 1997 (Last Updated April 26, 2001)
Barry Manilow International Fan Club and the BarryNet, ©1997-2001
Return to BMIFC Past Conventions and Parties...