<! BODY BGCOLOR="#ffffff" TEXT="#040404" LINK="#d4042c" VLINK="#d4042c" ALINK="#d4042c"> <! EMBED src="media/" type="audio/mpeg" autostart="true" autoplay="true" loop="false" hidden="true">


<! img src="images/update.gif" border=0> <! p> for Wednesday
November 8, 2023

Obbligato Napa Valley - 2023 Holiday Deals!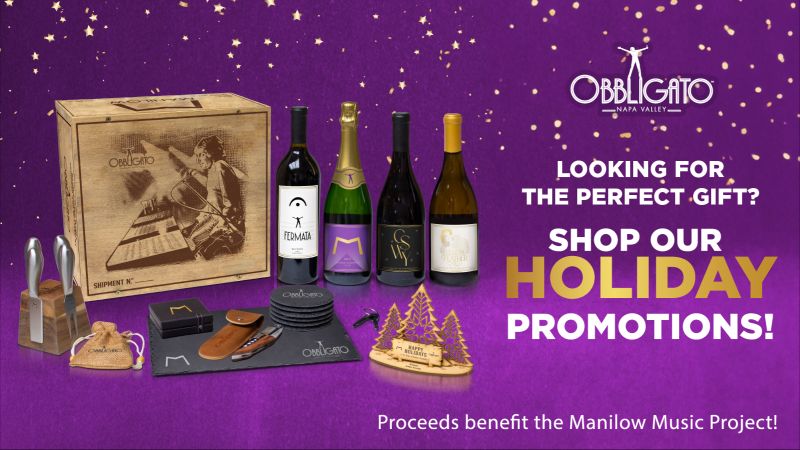 OBBLIGATO
NAPA VALLEY WINE
2023 HOLIDAY SPECIALS!

Cheers to the holiday season with Obbligato Napa Valley, Barry Manilow's exclusive wine brand! From Nov. 1 - Dec. 31, enjoy exclusive discounts on your favorite wines and gifts: $10 off $100 (use code10OFF), $20 off $200 (20OFF), and $35 off $300 (35OFF).
Give the gift of premium Napa Valley wines with our special gift sets, each complete with a customizable 3D wooden card. Plus, every purchase supports the Manilow Music Project.
Shop NOW at https://on.barrymanilow.com/trk/obbligatoholidays2023fb
#ObbligatoNapaValley












[ BMIFC Hotline Message for November 7, 2023 | BMIFC Contact Information ]


The Man | His Music | The Shows | His Fans | Feedback | Connections | Hotline
This Page Created May 25, 1997 (Last Updated November 8, 2023)
Barry Manilow International Fan Club and the BarryNet, ©1997-2023