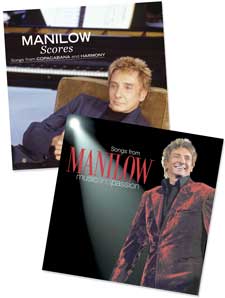 SONGS FROM MUSIC AND PASSION COMBO PACK
A Starz.bz exclusive! Concord Records was gracious enough to let us release the Songs from Music and Passion CD, with "Here's To Las Vegas" and "Dancin' In The Aisles," if we packaged it with Scores...so here it is!
"Dancin' In The Aisles" was part of the show-stopping encore from the One Night Live! Tour, and "Here's to Las Vegas" is the new anthem paying tribute to Vegas' past, present, and future.
Songs from Music and Passion contains:
1. Here's To Las Vegas
2. Sweet Heaven (I'm In Love Again) (2005 Remix)
3. Every Single Day (2005 Remix)
4. Copacabana (At The Copa) Remix 1
(Pete Lorimer Vocal House Excursion)
5. Copacabana (At The Copa) Remix 2
(L.E.X. Latin/Tribal Dub)
6. Copacabana (At The Copa) Remix 3
(Ralphi Rosario's Cuban Underground Dub)
7. Copacabana (At The Copa) Remix 4
(2005 Extended Dance Mix)
8. Dancin' In The Aisles
Scores: Songs from Copacabana and Harmony contains:
1. Just Arrived
2. Dancin' Fool
3. Who Needs To Dream?
4. Sweet Heaven (I'm In Love Again)
5. Bolero De Amor
6. This Can't Be Real - duet with Olivia Newton John
7. Copacabana (At The Copa) 2005 Dance Mix
8. Harmony
9. And What Do You See?
10. Every Single Day
11. This Is Our Time!
12. Where You Go
13. In This World
14. Stars In The Night
Product Code: BARCDMAP
Price: $20