Las Vegas '96 (Day 1)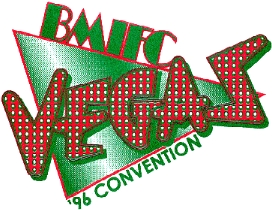 Wednesday, August 21, 1996

SIGN-IN DESK
3:00 p.m.
Attendees arrived to pick up convention packets (including Opening Night tickets and more), straw hats with colorful ties, 'matching' sunglasses and souvenir T-shirts.
DESSERT BUFFET
10:00 p.m.
Greeting old friends, meeting new friends. Food, drinks. Voting for favorite photos (by category) submitted by fans. Participating in the Charity Coin Toss to benefit the Starlight Foundation.

See Photo Central 2 for a closer look at the FIRST PLACE "Fantastic Foto" winner!

This Page Created September 1, 1996 (Last Updated April 26, 2001)
Barry Manilow International Fan Club and the BarryNet, ©1996-2001
Return to BMIFC Past Conventions and Parties...