Hot'lanta (Day 2)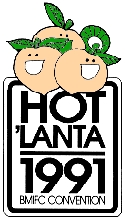 Wednesday, August 28, 1991

UP AND AT'EM
Early Morning Musical Aerobics, Basic Breakfast Buffet Bash, First Annual Fun and Fashion Show.
FIRST STOPS...
Local Fan Club displays, Non-Stop No Nonsense-Variety Video Vamp, Patty Dombrowski's Paint and Paste T-Shirt Palace.
PEOPLE'S CHOICE...
The Amazing Mouth Miming Magic Music Marathon (lip sync contest), Fan Club 101 (how to operate a local fan club), Famous Flicks 400 (how to take great photos), Big Swing Bingo.
VIDEO WIND-UP
Private screening of the last concert at Wembley Arena (never before broadcast!), plus America's Most Revealing Videos Contest!

This Page Created March 23, 1999 (Last Updated April 26, 2001)
Barry Manilow International Fan Club and the BarryNet, ©1999-2001
Return to BMIFC Past Conventions and Parties...