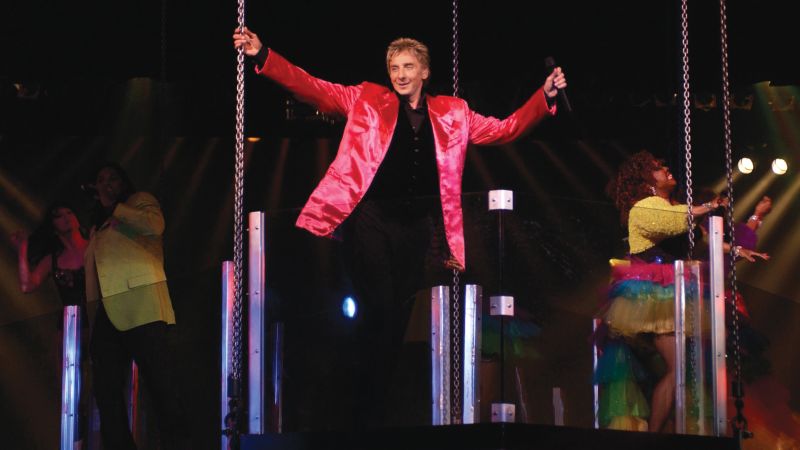 Happy New Year!
Folks, we have a winner!
This show is fantastic. I was out of breath just watching it!
It's the January, 2006 "Music and Passion" show at the Las Vegas Hilton from 16 years ago!
This was the show that won the Emmy award, and I can see why.
Everyone on the stage was at the top of their game. Keely, Monica, Melanie and Kye were workin'! The band was fantastic.
I remember that I was in the middle of recording "The Greatest Songs of the 50's.
I told the audience that I was going to use them as guinea pigs before I sang the next song. They reacted so well to the song, I felt that I might have a winner in that album. Little did I know! (Entered at #1, went Gold!).
It was a great way to start the new year.
Oh, I nearly forgot!
There's a special guest star during this show. As we were singing, I saw a shadow running down the aisle and jump on to the stage! Of course, I thought it was a maniac and yelled for help from one of my burley security people (Keely!!).
But it was one of the most beloved actor/singers of all time.
You'll have to watch the show to find out who it was!
Have fun with this one.
And have a great year.
And remember what Grandpa always said, "Be Nice".
Love,
Barry
<! center><! iframe src="https://www.facebook.com/plugins/video.php?href=https%3A%2F%2Fwww.facebook.com%2Fbarrymanilow%2Fvideos%2F344992950672527%2F&show_text=0&width=800" width="800" height="450" style="border:none;overflow:hidden" scrolling="no" frameborder="0" allowTransparency="true" allowFullScreen="true"><! /iframe><! /center> <! p>











Also available this month are:











Available on multiple devices:
[ AppleTV | AndroidTV | FireTV | Roku | Chromecast ]
[ Apple iPhone | Apple iPad | Android ]