<! BODY BGCOLOR="#ffffff" TEXT="#040404" LINK="#d4042c" VLINK="#d4042c" ALINK="#d4042c"> <! EMBED src="media/" type="audio/mpeg" autostart="true" autoplay="true" loop="false" hidden="true">


<! img src="images/update.gif" border=0> <! p> for Monday
December 9, 2019

Night Songs II Pre-Order Now Available!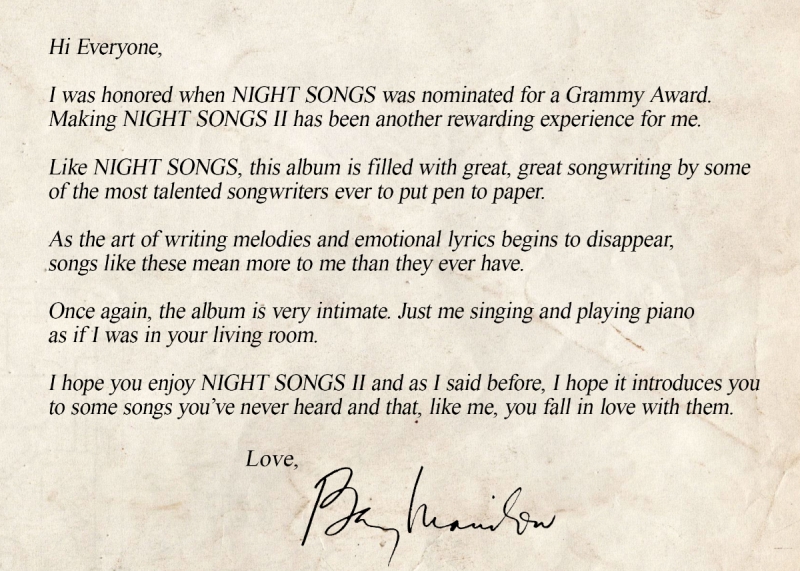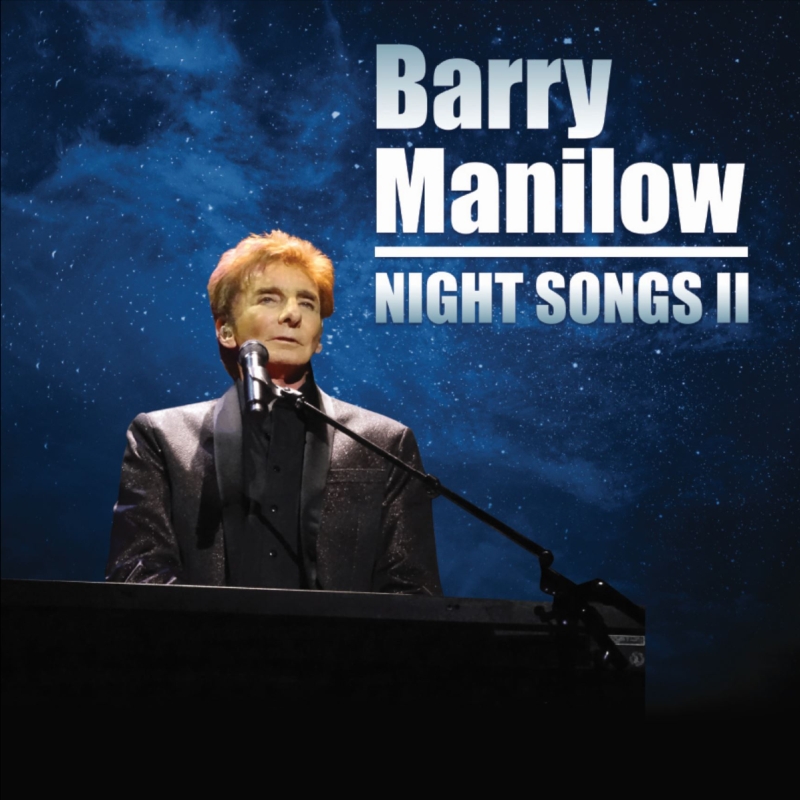 NIGHT SONGS II will ship for arrival on February 14th and is exclusively available for pre-order via ShopManilow.com.
Pre-order now and you will immediately receive a download of track six, Meditation.
Subsequent tracks will be announced in the coming weeks.
As an added bonus, one in every ten copies will be autographed by Barry!
Each pre-order enters you in a contest to celebrate the release of NIGHT SONGS II on Valentine's Day with Barry via a pair of Platinum Experience packages which include two front row tickets to MANILOW: Las Vegas as well as two pre-show meet and greets.
Rules & regulations can be found here.
Secure your copy now to make this upcoming Valentine's Day one to remember.
Night Songs I & II: Collector's Edition Box Set
$49.99

Limited edition boxed set with both NIGHT SONGS I & NIGHT SONGS II housed in a custom premium linen paper rigid box with magnetic enclosure that perfectly fits both CDs & a special Valentine's Day card from Barry.

Night Songs II CD
$14.99

Following the Grammy nominated NIGHT SONGS, comes NIGHT SONGS II. Pre-order right now and get a download link for Meditation. Who knows, your CD might be one of the lucky 10 that are autographed by Barry! Doesn't that sound like a perfect Valentine's Day?

Night Songs II Vinyl
$29.99

Whether you are a collector or an audiophile looking for the best listening experience, we've got the package for you. A special mix and master of the album was done specifically for vinyl and pressed on audiophile 180 gram vinyl by RTI, the best in the business.











[ BMIFC Hotline Message for December 6, 2019 | BMIFC Contact Information ]


The Man | His Music | The Shows | His Fans | Feedback | Connections | Hotline
This Page Created May 25, 1997 (Last Updated December 9, 2019)
Barry Manilow International Fan Club and the BarryNet, ©1997-2019