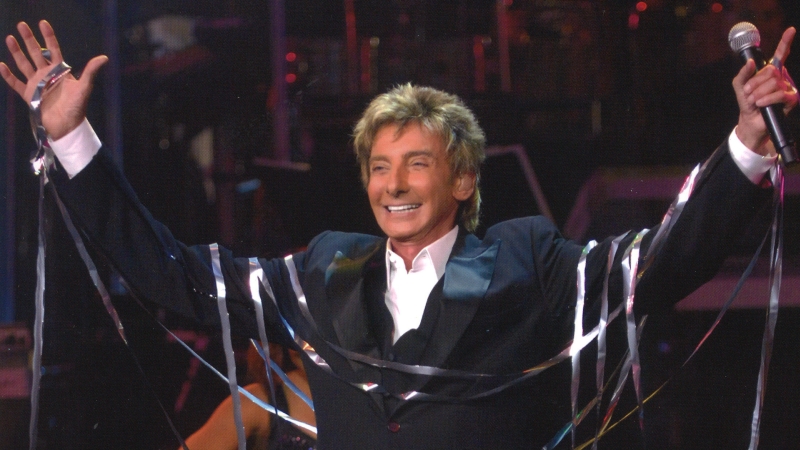 Wow.
This year flew by. Can't believe I'm about to wish everyone a happy holiday already!
Happy Holiday!
Our final month's ManilowTV episode is another rare concert.
We called this tour "An Evening of Music and Passion" and it was a road show based on the show we'd put together for the Hilton show we were doing in Las Vegas.
This tour was the most extravagant touring production we'd ever done. It took something like 12 semi-trucks to carry it around country.
Such a production!
For instance, the stage had an elevator built into it so the black grand piano I play would lower into the stage and a white grand piano would replace it AND it would lift up into the air as I sang the last chorus of "Weekend in New England"!
Another smaller elevator was attached to the edge of the stage lowering me down to the audience.
The riser that the full orchestra was on would split in two leaving a huge empty section where my singers and I could enter and leave into.
And I won't even begin to describe the production of "Copacabana"! You have to see this to believe it.
There were loads of costume changes every time we'd do songs from the "Decades" albums.
The video was taped in New York at Madison Square Garden with a wonderful New York audience.
We did great new arrangements of some of the hits and to top it off, my friend, Dave Koz, makes an appearance and we do his beautiful version of "Moon River" from his newly released album.
It's a very entertaining show, one that we'll never do the likes of again.
Enjoy!
And once again, have a happy holiday!
Barry











Also available this month are:











Available on multiple devices:
[ Apple iPhone | Apple TV | Apple iPad | Android | Roku | Chromecast ]