Broadway lost one of the great talents of the stage last week.
Elaine Stritch was one of a kind.
The moment she hit the stage, all eyes were on her. A true star.
She was one of the stars of Stephen Sondheim's ground-breaking musical, "Company," back in the 70s.
I was so crazy for "Company" that I "second-acted" it 17 times.
Since I couldn't afford to buy tickets, "second acting" is when you sneak into the theater during intermission and watch the second act from the standing room section.
Elaine would blow the place apart at the end of the second act with her unforgettable rendition of "The Ladies Who Lunch."
Her one woman show, "Elaine Stritch At Liberty," was a huge hit and ran for over a year. The show was riveting. Her life was riveting. She was riveting.
I met her backstage after seeing "At Liberty."
We shook hands, I gushed about how great I thought the show was, and how I loved all of her work through the years.
She looked at me and said, "Thanks. What's your name again?"
HA HA HA!! That'll bring you down a peg! I loved her!
RIP Elaine. We'll miss you.
Barry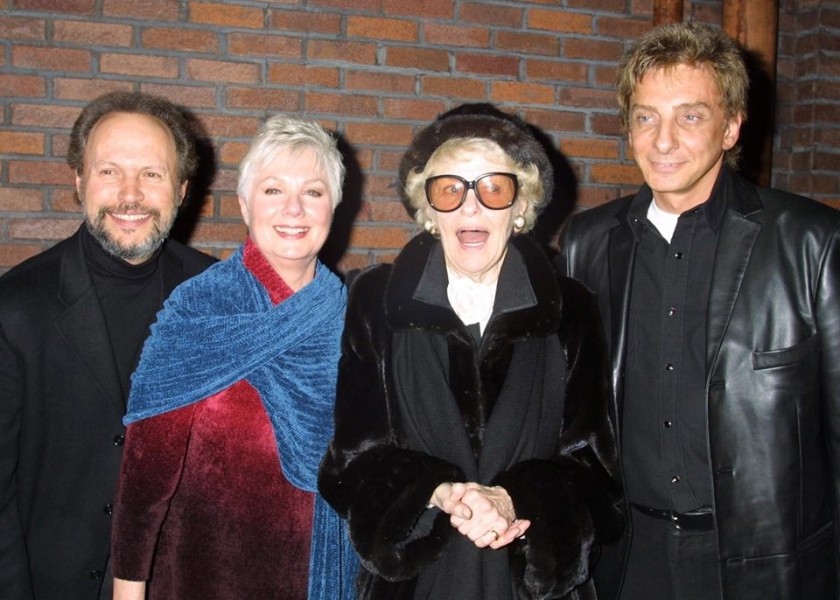 (Pictured L to R: Billy Crystal, Shirley Jones, Elaine Stritch and Barry)

Barry's Note about the Bonus Track "Marry Me A Little" included on the 1998 Remastered version and 2006 Expanded Edition of his 1975 album "Tryin' To Get The Feeling": This is a song that was cut from the Broadway production of Stephen Sondheim's ground breaking musical, "Company" (which I saw 17 times from the Standing Room Only section at the Alvin Theater in New York!). We cut it from this album, too, but I always regretted it because it's such a fantastic song.