We're all back from our week of shows. Here's my journal entry:
We're doing four one-nighters this week. The wonderful Brian Culbertson is opening for us and we've got the Youngstown Symphony Orchestra playing for us for each show.
Monday – we fly to Toronto.
Tuesday- Full day of rehearsal for sound and lights and to re-stage songs for the proscenium stages. All of us singing and moving full blast from 10:00AM until 10:00PM.
Wednesday – Toronto. Three hour sound-check. And then the rains came. And the thunder and the lightening. Such a thunderstorm, we've all never seen. I felt like I was in "The Posieden Adventure"!
Even though we were all dressed and ready to go, the storm began and kept hammering away at the outdoor arena for hours. Of course, we had to cancel that night's show.
But I realized that we had our one day off on Friday. So I checked with the band and the crew and they all unhesitatingly agreed to come back to Toronto on our day off and do the make-up show. They're so great.
Thursday – we got to Saratoga. When I walked on stage for our sound check, I remembered the venue. Beautiful venue. It's an outdoor arena with a balcony and a lawn behind the shed itself where people can sit on the grass and watch the show. There are big screens projecting us, so the lawn people (The lawn people! Sounds like a Stephen King novel!) can see us.
The Saratoga show was fantastic. We're all so used to our intimate showroom in Vegas, that when the sound of thousands of people hit us, it took our breath away.
I'm amazed that there are still so many people interested in seeing me and hearing my music. Their reaction was so loving and so powerful, it nearly brought me to tears.
Instead of our day off, we all went back to Toronto for the rain date.
Adam brilliantly booked last-minute hotel rooms for all of us. (He's amazing).
Sacha miraculously got all of the crew, band and the trucks back to Toronto.
The people that work for me are the best that I've ever had.
Friday – I'm getting real hoarse. Singing non-stop.
The make-up show in Toronto was worth coming back for. Toronto has always been a wonderful city to play, but this time it was over-the-top. I could feel that they were very grateful that we came back to do the show for them.
I didn't want the show to end.
Saturday – we played Youngstown, Ohio. This was my first time in Youngstown. As we drove into town, I saw a quiet, sleepy, clean American town. Like in the movies. I expected a sedate and polite audience.
Holy Mackeral! This audience was insane! Wild! Sensational! I don't think I've ever heard a sound like that coming at me. Roaring, shouting, applauding, cheering filling the arena and surrounding and engulfing me. I wonder if they knew how deeply moved I was?
And we had their own Symphony Orchestra playing my music so beautifully right on their own stage.
It was a once-in-a-lifetime evening for me.
Then it was flying through the night to Windsor, Canada and a showroom at Caesars. (Who knew there was a Ceasar's in Windsor?). But the majority of the audience came from Michigan.
I've played in so many places in Michigan, that it felt like old home week for me.
Another wonderful crowd and show.
It was a great week. Sometimes I miss doing this. Not touring, but playing for these wonderful crowds of people.
And now I'm sitting and staring into space. Can't talk. Can't move. Just watching True Blood.
Vegas for the weekend starting Friday.
Aren't I supposed to be retired by now and playing golf somewhere?
Forget it. I love this gig. And I don't know how to play golf anyway!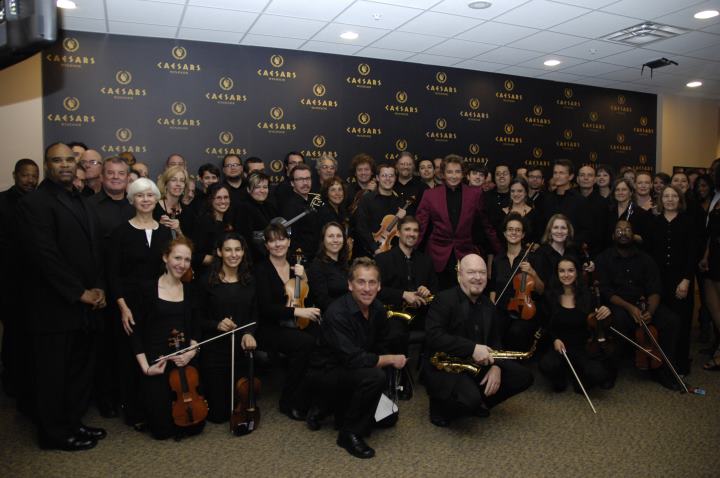 Barry with the Youngstown Symphony Orchestra