<! BODY BGCOLOR="#01060a" TEXT="#f8faf5" LINK="#d4042c" VLINK="#d4042c" ALINK="#d4042c"> <! BODY BGCOLOR="#000000" TEXT="#f8faf5">


<! img src="images/copacabanatour.gif" border=0> <! p> Copacabana<! Tour> Schedule: United States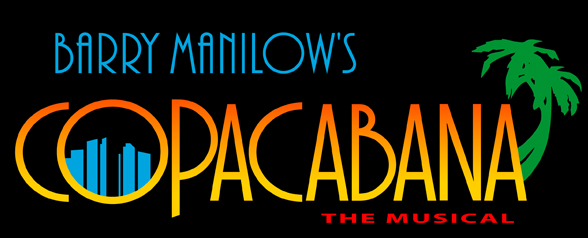 When

Where

July 21 –
August 2, 2009

Tuesday, July 21 8pm
Wednesday, July 22 8pm
Thursday, July 23 1pm & 8pm
Friday, July 24 8pm
Saturday, July 25 2pm & 8pm
Sunday, July 26 2pm
Tuesday, July 28 8pm
Wednesday, July 29 8pm
Thursday, July 30 8pm
Friday, July 31 8pm
Saturday, August 1 2pm & 8pm
Sunday, August 2 2pm

Pennsylvania / Pittsburgh
(Benedum Center)

Pittsburgh CLO's production...


A love letter to the Technicolor® musicals of the 1940s! Travel back in time with Lola, Tony and Rico when "music and passion were always in fashion." Inspired by Barry Manilow's Grammy® Award-winning hit song "Copacabana," this old-fashioned musical weaves a seductive story of love, jealousy and murder as told through the eyes of an aspiring songwriter. Complete with splashy production numbers and an original Latin-inspired score, Copacabana features more than a few surprises for even the biggest Barry Manilow fan.

Individual tickets are on sale now online or by calling 412-456-6666. Please feel free to call (412.325.1582) or email Group Sales at any time with questions or to reserve seats for your group. Discounts are available to groups of 10 or more and tickets start as low as $15.50. We hope to see you soon!
<! a href="http://www.starz.bz/barrymanilow/product.cfm?product=37" target="md"><! img src="images/copaposter.gif" border=0><! /a> <! p> This Page Created February 15, 2002 (Last Updated July 11, 2009)
Barry Manilow International Fan Club and the BarryNet, ©2002-2009
Return to His Music...