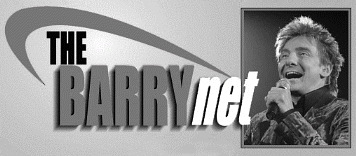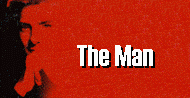 BARRY MANILOW - Biography
"In a world forever striving for peace, could Barry Manilow be the answer?," Washington Post after Barry Manilow's headlining performance at the recent Nobel Peace Prize Concert in Oslo, Norway.
"Among the few things one can count on in life: the taste of McDonald's cheeseburgers, "I Love Lucy" reruns are still funny — and Barry Manilow never wearing out his welcome at the top of the charts," Billboard Magazine.
With worldwide sales of more than 80 million records, Barry Manilow's success is a benchmark in popular music. His concerts sell out instantly. He is ranked as the top Adult Contemporary chart artist of all time, according to R&R (Radio & Records) and Billboard Magazines. Rolling Stone crowned him "a giant among entertainers… the showman of our generation," and Frank Sinatra summed up Manilow best when Ol' Blue Eyes told the British press, "He's next."
Manilow's roots are in his native Brooklyn, where music was an integral part of his life. By the age of seven, he was taking accordion lessons and playing on a neighbor's piano. Chosing a career in music while still in his teens, he attended New York College of Music and the Julliard School of Music while working in the mailroom at CBS. He subsequently became musical director for a CBS show named "Callback" which led to a lucrative sideline on New York's advertising jingle circuit.
In 1971, Barry Manilow met Bette Midler and became her music director, arranger and pianist. The following year, he signed with Bell Records to record his debut solo album.

In 1974, Clive Davis founded a new label, Arista, along with Columbia Pictures. Davis had the right to choose any artist on the Columbia Pictures-owned Bell Records to bring to Arista. Davis chose Manilow and the rest is history.

He famously brought Manilow a recent U.K. hit song entitled "Brandy" (by its writer Scott English). Clive changed the title to "Mandy" so it wouldn't be confused with the Looking Glass U.S. hit "Brandy." When Manilow's Arista single reached Number One in early 1975, it ignited one of the most incandescent careers in pop.
Manilow is ranked as the top Adult Contemporary chart artist of all time, according to R&R (Radio & Records), with no less than 25 consecutive Top 40 hits on the Billboard Hot 100 between 1975 and 1983. The list includes all-time favorites that Manilow still sings today: "Mandy," "It's A Miracle," "Could It Be Magic," "I Write the Songs," "Tryin' To Get the Feeling Again," "This One's For You," "Weekend In New England," "Looks Like We Made It," "Can't Smile Without You," "Even Now," and the Grammy Award-winning "Copacabana (At the Copa)." All of these songs (and more) were anthologized on the commemorative 1992 four-CD boxed-set, Barry Manilow: The Complete Collection And Then Some.
To date, twenty-nine albums by Manilow have been certified platinum, while Barry Manilow/Live (1977), Even Now (1978), and Greatest Hits (1978) are each certified triple platinum.
Bringing to a new generation the great songs of a different era has been the creative spark for several Manilow concept albums that have interpreted music of earlier decades. Among the titles are 1984's groundbreaking 2:00 AM Paradise Café featuring jazz legends Sarah Vaughan, Mel Tormé and Gerry Mulligan. Swing Street (1987) featured guest appearances by Stan Getz, Phyllis Hyman, Kid Creole, and Diane Schuur. Later came Showstoppers (1991), spanning nearly a century of Broadway show tunes.
On 1994's Singin' With the Big Bands, Manilow was paired with the orchestras of Les Brown, Duke Ellington, Jimmy Dorsey, Benny Goodman, Harry James, and Glenn Miller on a glorious set of Swing Era standards. 1998's Manilow Sings Sinatra, paired Barry with Grammy-winning producer Phil Ramone, paying homage to the great songs made famous by the legendary Frank Sinatra.
Albums produced by Manilow for other artists – including Bette Midler, Nancy Wilson, and Dionne Warwick – have been nominated for Grammy® Awards.

A winner of Grammy®, Emmy®, and Tony® Awards, Manilow's film credits include the Oscar®-nominated song "Ready To Take A Chance Again" (from 1978's Foul Play), production of Bette Midler's "Perfect Isn't Easy" (from Walt Disney's Oliver and Company), and the soundtracks for the animated features Thumbelina and The Pebble and the Penguin.
Manilow has given the gift of collections in the best-selling series of tributes to popular music. RIAA platinum The Greatest Songs Of The Fifties released January 31, 2006, which became his first #1 debut on the Billboard 200 album chart and first #1 album since the triple-platinum double-LP Barry Manilow/Live; RIAA platinum The Greatest Songs Of The Sixties released October 31, 2006, entering the chart at #2 and was the all-time highest first sales week debut chart entry of Manilow's career. With those two albums, Manilow became the first artist since 1981 to have two albums in the top two positions in one calendar year on the Billboard chart.
Next came The Greatest Songs Of The Seventies, released September 18, 2007, entering the Billboard charts at #4, making The Greatest Songs of the Seventies Manilow's 33rd charting album, his 11th Top 10 and his 10th Top 10 debut and the only artist to have three Top four debuts on the Billboard 200 chart in two years. The Greatest Songs Of The Eighties marked the fourth collaboration between Manilow and Clive Davis, BMG U.S. Chairman & CEO, when he returned to the Arista label after a five-year absence (which was distinguished by new albums on Concord and Columbia.) As the founder and president of Arista Records for its first 25 years, Davis was a perennial collaborator with Manilow on virtually all his recordings. They first worked together on "Mandy," Manilow's debut #1 single, after he became the first performer signed by Clive Davis to Arista in 1974, the first year of the label's existence. As the charter member of the Arista artist roster, Manilow has a unique place in the pantheon of American performers.
In the fall of <! 2008 >2007, Manilow released In The Swing of Christmas, which provided a timely complement to the first four albums in the 'Decades' series. The album was re-released in 2009 with "Christmas Is Just Around The Corner" from the animated holiday TV special Cranberry Christmas.
In the winter of 2010, Manilow received his latest Grammy® nomination for The Greatest Love Songs of All Time, co-produced by Manilow, Clive Davis, and Michael Lloyd (Somewhere in Time and Dirty Dancing). The album debuted at #5 on the Billboard 200.
Manilow rocked Las Vegas when he opened his multi-million dollar production of Manilow: Music and Passion at the Las Vegas Hilton in 2005. Following a sold out five year run, he was lured to the Las Vegas Strip and the Theatre des Arts at The Paris Hotel. Working with industry veteran Jeffrey Hornaday, Manilow opened his <! new >two-year Las Vegas spectacular residency in March 2010 to critical acclaim.
| | | |
| --- | --- | --- |
| | After having recorded six critically acclaimed albums of songs written by the greatest songwriters of all time – Manilow <! returns at last>returned to his true passion – songwriting, with the June 2011 release of <! his latest album,> 15 Minutes, his first of original songs in ten years (2001's Here At The Mayflower). More than two years in the making, Manilow produced the recording with Michael Lloyd and <! reunites >reunited with lyricist Enoch Anderson<! for the June 14th, 2011 release>. Inspired by the Andy Warhol quote: "In the future, everybody will be world famous for fifteen minutes," this edgy, guitar-driven pop album is a captivating musical odyssey exploring the perils and pinnacles of fame's double edged sword.<! 15 MINUTES ><! is being released by STILETTO Entertainment and distributed by Fontana in association with the Universal Music Group as part of a multi-product partnership. > | |
2012's Live In London (CD/DVD) was recorded at the O2 Arena in May 2011 with the Royal Philharmonic Concert Orchestra, providing audiences with gorgeous arrangements of Manilow classic hits.
Through the magic of technology, Barry sings with stars who are no longer with us, including Whitney Houston, Judy Garland, John Denver, Dusty Springfield, Louis Armstrong, Jimmy Durante, Marilyn Monroe, Andy Williams, Sammy Davis, Jr. and more, on 2014's My Dream Duets.
A native New Yorker, Manilow has been in love with the rhythms, melodies and music of the Big Apple since childhood. With the release of 2017's This Is My Town: Songs of New York, Barry says thanks to the city for giving him his ambition, sense of humor and decency.
During 2015-2016, Barry hit the road for ONE LAST TIME! across North America and the U.K. In May 2018 Barry returned to Las Vegas with a brand new stage production as the exclusive headliner at the Westgate Resort & Casino's International Theater with MANILOW: LAS VEGAS - The Hits Come Home!
Released in March 2014, Night Songs, the most intimate album Manilow has ever made, features Barry singing some of the greatest standards of all time. All the songs selected are Manilow's personal favorites and hail from the greatest composers of the 20th century and are not necessarily their best-known works.
Barry returned in 2020 with a sequel to his Grammy-nominated 2014 release with Night Songs II, which is "filled with great, great songwriting by some of the most talented songwriters ever to put pen to paper."
Highlights of Manilow's theater career range from his Tony® Award-winning Broadway debut in 1977 (in the same year that ABC-TV presented The Barry Manilow Special to an audience of 37 million) to an SRO eight-week run on the Great White Way in 1989. Beginning in 1997, Barry Manilow's Copacabana – The Musical, an elaborate two-act spectacular, played to packed houses in London's West End for 18 months before touring the U.S., Australia and Asia. June 2001 saw the opening of Could It Be Magic? – The Barry Manilow Songbook.
| | | |
| --- | --- | --- |
| Barry Manilow and Bruce Sussman's "HARMONY - A New Musical" opened in September 2013 at the Alliance Theatre (Atlanta, Georgia), followed by a second production in March 2014 at the Ahmanson Theatre (Los Angeles, California). "HARMONY" tells the compelling story of the Comedian Harmonists. | | The Comedian Harmonists were the first sensational boy band: six talented young men who came together in 1920s Germany and took the world by storm with their signature blend of sophisticated close harmonies and uproarious stage antics. They sold millions of records, starred in a dozen films and packed concert halls around the globe until the world they knew forever changed. |
Barry Manilow has made countless television appearances ranging from Emmy®-winning network specials to cable concerts, and released such best-selling long-form home videos as Live On Broadway and Because It's Christmas. His two-hour 1996 A&E special, Barry Manilow: Live by Request was the highest rated music show in the network's history. Manilow has also appeared on the highly rated TV series "Murphy Brown," "Ally McBeal," and "Will & Grace." In 2006, Manilow received his fifth Emmy® nomination and Emmy® win for the PBS special Manilow: Music and Passion. The broadcast celebrated Manilow's 100th performance at the Las Vegas Hilton. Produced by Stiletto Television, the Rhino DVD of the PBS special was soon certified triple platinum. Barry Manilow Happy Holiday! is Manilow's holiday-themed television special from A&E's "Live By Request." Originally broadcast from New York City on a snowy December night in 2003, this show is one of the highest-rated A&E "Live By Request" performances ever.
| <! img src="images2/1stspec182.jpg" border=0> | | | | |
| --- | --- | --- | --- | --- |
In June 2002, Manilow was inducted into the National Academy of Popular Music's Songwriters Hall of Fame alongside Ashford & Simpson, Michael Jackson, Randy Newman, and Sting.
Manilow is a member of the Board of Governors of the National Academy of Jazz. His autobiography, Sweet Life: Adventures on the Way to Paradise, was published by McGraw-Hill in 1987. In addition to his own foundation, the Manilow Fund for Health and Hope, other involvements include The Prince's Trust, United Way, the Starlight Foundation, and several leading organizations for AIDS prevention and research. Manilow is the national spokesperson for the Foundation Fighting Blindness and a member of the Music Center of Los Angeles.
In 2008 created the Manilow Music Project as part of his Manilow Fund for Health and Hope (www.manilowmusicproject.org). Answering the call of need at a time when arts and music programs in most schools is the first casualty in budget cuts, MMP provided $500,000 worth of musical instruments, as well as sheet music and music stands to 21 local schools in the Coachella Valley He performed his first ever Hollywood Bowl orchestra backed concert on October 24th, 2009 – where, in association with the Manilow Music Project and the Grammy® Foundation, he raised a donation of $100,000 in musical instruments for the LAUSD. An avid philanthropist, his concert series A Gift of Love raised nearly half a million for local charities in the Palm Springs/Coachella Valley leading into Christmas 2009, which with this latest charitable donation takes his efforts well over one million. He has also organized an instrument drive and donation for the Las Vegas/Clark County School District to the tune of half a million thus far, and this is only the first wave for that district. MMP has been the driving force in instrument drives and donations in major markets across the country, and continues with every new show Manilow performs.
| | | |
| --- | --- | --- |
| As Manilow says, "Anyone can make a difference. Just call your local schools and ask them what they need. Get 'em a new set of drums! Music changes a young person's life." | | |
"I am a musician. My passion for music has obliterated everything in its path for my entire life. Whenever there was a choice between music and anything else, music won hands down every time. No one person or material thing could ever come close to the feeling I get when the music is right. I am totally committed to my music and my fans." - Barry Manilow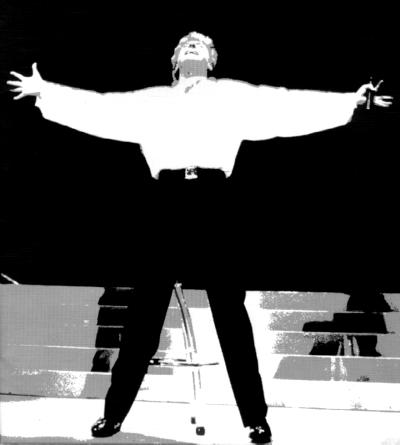 This Page Created February 23, 2000 (Last Updated May 25, 2020)
Barry Manilow International Fan Club and the BarryNet, ©2000-2014