Special Appearances & Events - Current
When

Where

Don't Ya Love It?

Tuesday,
May 15,
2018
(21:00)
BBC Radio 2:
They Write The Songs
Series 3 - The Broadway Edition

Babes in Arms | Ballroom | All American | Do Re Mi




They Write The Songs, Series 3: Barry Manilow looks at the lives and works of ten famous composers of the Great American Songbook, playing rare recordings and de-constructing their songs at his piano.

This week features Rodgers and Hart's 'Babes in Arms' - a show that features five songs that became standards, including 'Where or When' and 'My Funny Valentine' but which has never been fully re-vived; 'Ballroom' which was written by Billy Goldenberg and the great lyricists Alan and Marilyn Bergman and nominated for eight Tony Awards; 'All American' which featured the first book Mel Brooks ever wrote for a musical and starred Ray Bolger (the Tin Man in Wizard of Oz); and 'Do Re Mi' written by the team who brought you 'Singing in the Rain' Betty Comden and Adolph Green and Jule Styne, who wrote the score to 'Gypsy' and 'Funny Girl'.



[ BBC Radio 2 ]

Wednesday,
May 2,
2018
WGN-TV

Dean Richards chats with Emmy, Grammy & Tony winning legend Barry Manilow




Wednesday,
May 2,
2018
Good4Utah

Seeing Barry Manilow in concert is just a car ride away




Grammy, Tony and Emmy Award-winning singer Barry Manilow announces his return to Las Vegas. Manilow joined Midday to talk about the big news. He will be the exclusive headliner at the Westgate International Theater at Westgate Las Vegas Resort & Casino. The 85-minute show celebrates his well-loved greatest hits. Tickets are on sale now and range in price from $19.75 to $329.75 plus tax and applicable fees. Show dates on sale are from May 24-26, June 14-16, June 21-23, July 19-21, July 26-28, September 27-29, and October 4-6.

May 2-May 3
2018
ABC-13 KTNV

May 2: John Katsilometes reports Barry is back at the Westgate




May 3: Norm Clarke's Vegas Diary on Barry



Recent Past Special Appearances & Events

When

Where

Don't Ya Love It?

Thursday,
November 9,
2017
On Air with Ryan Seacrest

Barry On Air with Ryan Seacrest


'Tis the season! Barry Manilow is bringing the holiday cheer with A Very Barry Christmas tour. The legendary singer phoned in to On Air With Ryan Seacrest on Thursday, November 9, and shared that the show will consist of holiday and hit tracks. "It's the first time I'm going on the road," Barry shared of his holiday show. "It's a real Christmas show with trees and snow."

Barry, who has three Christmas albums out now, will transform the arenas into winter wonderlands, but also promised to perform a few throwbacks too. "I'll do the hits in the middle of the snow," he added.

Listen to the full interview above to hear which famous track of Barry's he was surprised did well and click here for all the info on A Very Barry Christmas.

Wednesday,
November 29,
2017
WGN-TV<! p><! img src="" border=1>

Barry Manilow with details on holiday concert in Chicago




<! iframe width='480' height='360' frameborder='0' allowfullscreen src='//cdn2.trb.tv/iframe.html?ec=Q2bGtpZDE6wr5qwx3QE8ShxLqgLLfXRu&pbid=5d88305d0c6c47eabc12e43063a41c69&pcode=trOTQyOtBWYGl88XLal1pDam4Q-4'>

Wednesday,
February 14,
2018
SiriusXM Radio


Barry takes over Valentine's Day Radio
on SiriusXM Radio


Tune in to Love (Channel 70 & on the SiriusXM Radio app.) on SiriusXM Radio to hear Barry introduce some of his own love songs, plus he's selected a list of his favorite love songs from other singers! Barry will be heard throughout the day introducing love songs. Starting at 6am eastern and airing throughout the day.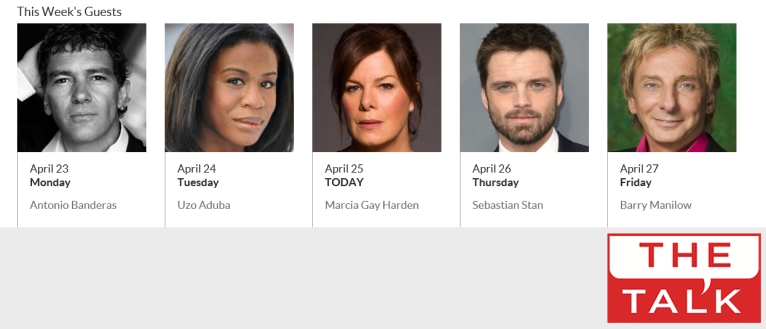 When

Where

Don't Ya Love It?

Friday,
April 27,
2018
The Talk
(CBS-TV)


Barry Manilow on The Talk, April 27th!


Calling all Fanilows: The legendary singer, songwriter and performer Barry Manilow is joining us on FRIDAY (April 27th) with an exciting, exclusive announcement! What could it be??

<! img src="http://www.barrynethomepage.com/images/TheTalk-20180427-friday300.jpg" border=1>

Friday,
April 27,
2018
Extra-TV


Barry Manilow on Extra-TV!


Round of Applause: Renée Bargh chats with Barry Manilow on the set of Extra on Thursday (April 26th).

Saturday,
April 28,
2018
Entertainment Tonight


Barry Manilow on ET!


Barry Manilow Teases His Exciting Return to Las Vegas Residency: The grand opening for Manilow's Vegas show is set for his birthday weekend, June 14-16, 2018.
<! img src="images/bmifc_line2.gif" width=768 height=2> <! p> This Page Created March 3, 1996 (Last Updated May 14, 2018)
Barry Manilow International Fan Club and the BarryNet, ©1995-2018
Return to The Shows...