<! BODY BGCOLOR="#ffffff" TEXT="#040404" LINK="#d4042c" VLINK="#d4042c" ALINK="#d4042c"> <! EMBED src="media/" type="audio/mpeg" autostart="true" autoplay="true" loop="false" hidden="true">


<! img src="images/update.gif" border=0> <! p> for Wednesday
May 16, 2018

Win a pair of front row tickets to see MANILOW: Las Vegas!











MANILOW: LAS VEGAS is getting closer! Try your luck and enter for a chance to WIN 2 FRONT ROW TICKETS to see Barry Manilow. Enter Here: http://tnspk.co/pfLAtX8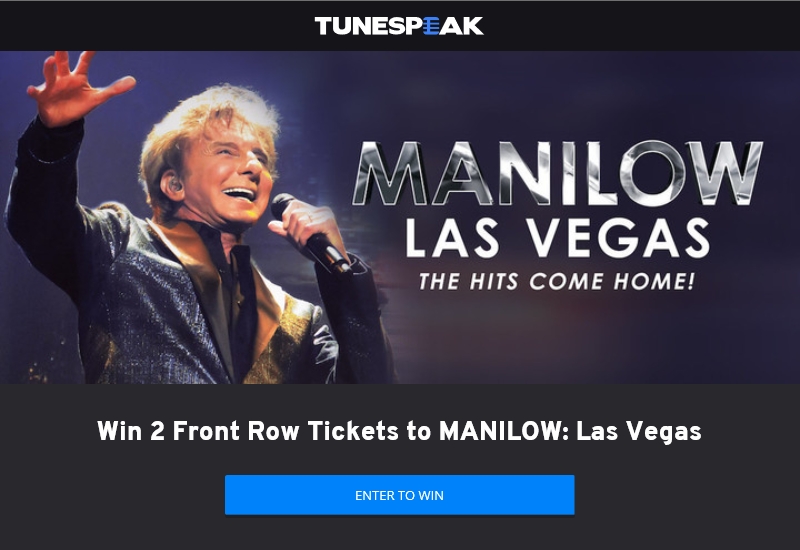 Barry Manilow is coming back to Las Vegas and is bringing his extensive catalog of hits with him in a brand new stage production. With 50 Top 40 hits and sales of more than 85 million albums, Barry is back in Las Vegas as the resident headliner at the Westgate International Theater at Westgate Las Vegas Resort and Casino. Performance dates are scheduled throughout 2018.
1st Prize: 1 Winner -- Two (2) Front Row Tickets to a MANILOW: LAS VEGAS show of your choice. Dates include:
July 19-21
July 26-28
Sept 27-29
Oct 4-6











[ BMIFC Hotline Message for May 11, 2018 | BMIFC Contact Information ]


The Man | His Music | The Shows | His Fans | Feedback | Connections | Hotline
This Page Created May 25, 1997 (Last Updated May 16, 2018)
Barry Manilow International Fan Club and the BarryNet, ©1997-2018