<! BODY BGCOLOR="#ffffff" TEXT="#040404" LINK="#d4042c" VLINK="#d4042c" ALINK="#d4042c"> <! EMBED src="media/" type="audio/mpeg" autostart="true" autoplay="true" loop="false" hidden="true">


<! img src="images/update.gif" border=0> <! p> for Thursday
May 18, 2017

A Gift Of Love IV - December 2017!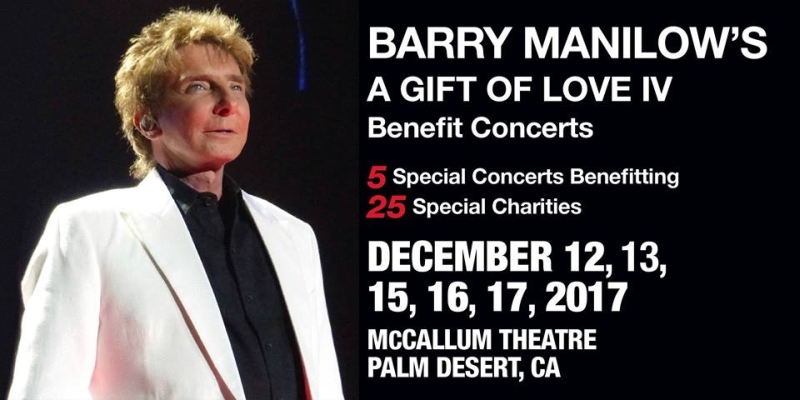 Scheduled to take place at Palm Desert's McCallum Theatre, Manilow's A Gift of Love IV concerts will feature his hit songs and holiday favorites. His past holiday concerts have surprised audiences with a children's choir, Santa Claus, and even snow!
Concerts are scheduled for December 12 and 13 and then again December 15, 16 and 17.
ALL Proceeds Go to Charity. Mr. Manilow is contributing his performances to the "A Gift of Love IV" concerts and will not be compensated.











[ A Note from Barry - April 5, 2017 ]
[ BMIFC Hotline Message for May 17, 2017 | BMIFC Contact Information ]


The Man | His Music | The Shows | His Fans | Feedback | Connections | Hotline
This Page Created May 25, 1997 (Last Updated May 18, 2017)
Barry Manilow International Fan Club and the BarryNet, ©1997-2017